The main hall will welcome you with a tall ceiling, large French windows on each side, a Royal chandelier and a sophisticated ambiance. The neoclassical design sends you in another era of aristocracy and joie de vivre, a nostalgic view to the inter war Bucharest upper class ball rooms.
The hall has a bar inside and a terrace that embraces the space on every side. The terrace has a lake view and is right across from the stage like pontoon, where guests can watch additional happenings, connected with the event.
In weddings, for example, it's customary to use the pontoon for the bride and groom opening waltz.
This hall is appropriate for daytime events due to the generous natural lighting, but also for evening glamour events, under the sparkling royal chandeliers.
Though the naming of the hall makes you think exclusively at parties – both private and corporate, actually, the hall is more versatile, being equally suitable for conferences, seminars, trainings and other various forms of business gatherings, according to your needs. The placing can be rearranged accordingly, accommodating the type of event you have in mind.
According to your needs, the 160 sq m hall can host:
U shape – 36 guests
Class Room – 63 guests
Board Room – 34 guests
Sitting – 120 guests
Standing – 200 guests
Amphitheater style – 190 guests
During the warm season, an additional 160 sq m covered lake view terrace:
Sitting – 132 guests or standing – 200 guests.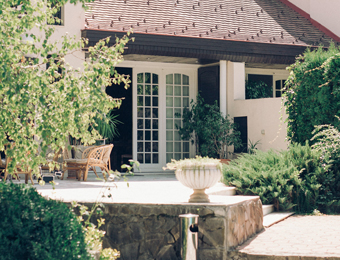 Lodging
A separate building consisting of 5 bedrooms and a common living room, designed to offer privacy and a quiet rest for…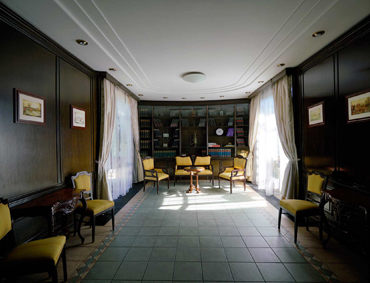 The Wine Cabinet
Connected to the Lakeview Ballroom, there is another space – the Wine Cabinet – that can be used as a retreat from the main…
The Garden
Almost as large as the Lakeview Ballroom, The Garden has an eclectic décor, ranging from neoclassical to elements of…
The Pool
The 200 square meters pool can host stand alone parties or in connection with any of…
The Barbeque Area
In a rustic ambiance, the space is suitable for both corporate or private themed events. You will…
The ProvenSalle
Enjoy an open air brainstroming with the team or just celebrate in nature a birthday or other family reunion…